Valley of Entropy
Pinhão, Douro, Portugal -
The elderly woman stoops on her side of the property line behind a utilitarian security gate, eyes quivering. "Entiendo completamente" she says mournfully. "No hay problema."
I'm afraid that if the woman starts crying, her caked-on eye shadow – the same shade of green as the security gate – will start to run. She had a hangdog look when we met and I'm making it worse. I wonder if we'll be the last straw for her.
The woman's husband finally makes an appearance, poking his head out a window on the second storey of the manor house on the hill above us. He whistles shrilly for his wife's attention, angry that she's wasting time with me when six other paying customers need her.
The angry look on the farmer's face catalyzes me to action. I back away from the gate, nodding apologetically. "Lo ciento, pero las alergias – no possiamo – il faut que …" all of my languages run together in the stress of the moment and I grin sadly. "Desculpe," I finish, pronouncing it in the Portuguese way.
I hop into the car, grind the gears into reverse, and back hastily down the driveway, asking Anthony where we're headed. He's been researching backup plans for the past half hour while I've been tresspassing on a Portuguese vineyard, bypassing the gate and snooping around a seemingly abandoned property before running into several confused American tourists and – eventually – the old woman. I feel like a bank robber speeding from the scene of the crime as we wind down the hillside into town.
How did we get here? It's an interesting story that involves a global labor shortage, the corporatization of viticulture, and some poor UI decisions by a hotel booking site. I remove myself from the chain of events to salve my ego. As the narrator, that's my prerogative.
---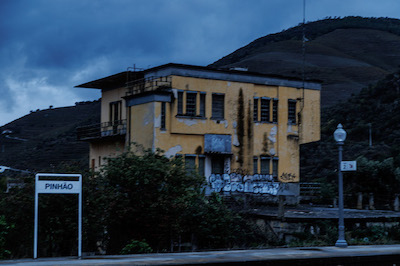 About a month before our trip, I decided to add the Douro Valley to our itinerary to break up what would otherwise be a tour of big European cities. The heart of Portugal's wine country, a UNESCO world heritage site renowned for its terraced hillsides, mist-shrouded mountains and placid waterways, seemed like an excellent relaxation break between Lisbon and Porto.
A navigable river and a passenger railway run along the base of the valley connecting a number of towns. Only two are big enough to have a grocery store: Péso da Regua and Pinhão. Outside of the towns and villages the valley is lousy with quintas: vineyards that grow local grape varietals with an emphasis on port. Many quintas have rooms to rent, but "rustic farmhouse" is not on my travel Bingo card anymore, so we found a highly-reviewed quinta-turned-B&B in the hills over Pinhão with stunning views and easy access to the good restaurants in town.
Two weeks out from our booking date, the web site gave me an automated reminder to send passport information to our host, Rodrigo. I emailed him and included a few questions about logistics; no reply.
Three days out, sipping my coffee in a lilliputian Lisbon penthouse, I texted Rodrigo to ask about driving directions; no reply. The next morning I brought the topic up with Anthony, who dug up alternate contact information: the Facebook page for the quinta mentioned it was run by A Pedro, not A Rodrigo; I re-sent my inquiry to Pedro, noting the Czech Republic country code on his phone number – an odd thing for a Portuguese country bumpkin to have!
By the morning of our departure from Lisbon, we still had no word from the quinta but we were northbound in any case. We decided to wing it, picked up a rental car at the airport, and headed north.
The drive was relaxing except for one intense cloudburst that had the entire motorway creeping along at 50kph with our hazard lights flashing. As we ascended from the Tagus Valley the fall colors of Lisbon gave way to bright evergreens and eventually to heartier, bluish conifers at the higher altitudes. The roads were in excellent shape and the scenery was beautiful. We passed road signs for various tourist destinations that we delighted in bypassing: Fatima, Leiria, Coimbra. North of Viseu the landscape became abruptly more manicured; hillsides were uniformly terraced and planted, maximizing the human use of the land.
Once we left the motorway the roads got progressively and swiftly narrower. Potholes appeared in the asphault and we got stuck behind a tour bus all the way into Pinhão. The asphault gave way to uneven cobblestone and in place of dodging potholes, we had to dodge oblivious tourists in the town center. We made our way carefully up a one-lane road to our destination to find its driveway blocked by a security gate.
I hopped out of the car and snooped around, finding a gravel path that led around the back of the property. Hearing voices, I stepped carefully through a field of dead grape vines and down a pair of rough-hewn slate steps set into the hillside into the central courtyard. The house was a large, sprawling affair, divided roughly into a guest area with three units on the upper storey and a warren of smaller rooms below, obviously the residence of locals.
On a balcony above me, in the guest area I saw a group of four Americans chatting with one another. I got right to business: "Hi! I'm trying to check in; do you know where I can find the people who run this place?"
"No!" one of them exclaimed. "We just got here too. We tried calling Pedro, but apparently, Pedro is no longer employed here. We received a contact number, maybe for the owners. There's someone in the residential side of the house and the door is open, but we haven't bothered them yet."
I offered to make contact while they worked the phones. Stepping through a small herb garden, I gingerly approached the half-open doorway to the residence. I stopped to listen for a moment; through the doorway to my left I could hear a radio broadcast, and then a woman's halting voice. "Hello? Sorry, but I no English."
Off to my right, one of the Americans spoke carefully into her phone: "No problem. We are here at your house. We want to check in. Can someone help us?"
To my left, the woman's voice again: "Yes. Please wait." A thin, stooped woman appeared from the half-open doorway. Her eyes lit up and she smiled at me. "You are the husband, yes? Your wife." She gestured at her cell phone.
I smiled back. "Oh, no. I'm different. Uhh; não falo muito Portugues, mais vôce – fala français? Ou español?"
She had some of both languages; we settled on Spanish as the easier. I conveyed our situation and she seemed sympathetic. Without intending to, I usurped her attention as she showed me the disused part of the triplex that Anthony and I had booked. The beds were stripped; a thin layer of dust coated everything. She was obviously unhappy about the appearance, saying "No sabía que teníamos invitadas."
She asked me to pick a room – we didn't need the three rooms in the portion of the house that we'd booked – and she would clean that single room for us so we had a place to stay. I grew uneasy. The view was as advertised, but the thought of staying in a hastily-cleaned room in an abandoned part of the house did not spark joy in me. There were no clean linens or towels, so it would be late evening before we could even shower.
I beckoned her to sync up with the other Americans, selfishly forgetting that my part of the bargain was to translate for them, and high-tailed it to the car where I filled Anthony in. He'd found a four-star hotel with availability in the town center; much pricier than we had planned for, but at Portugal's modest prices, with the dollar historically strong, it would not break the bank. I made an executive decision: "Let's blow this joint. I don't care if we end up paying for it; we've had enough bad luck on this trip already. I want to turn our luck around."
Suddenly the security gate swung open in front of us; the woman beckoned me into the driveway, offering us her own parking place, as I'd already mentioned our tiny Volkswagen could not deal with the muddy lot in back of their house. I grimaced, got out of the car, and stammered out excuses in a mish-mash of languages: we had allergies; the dust and pollen in this valley, it was no good for us; our car was not good for this weather; I was very sorry, and maybe we would return another time.
The appearance of the woman's angry-looking husband clenched my decision. I hopped into the car, ground the gears into reverse, and backed hastily down the driveway. We headed for our emergency four-star splurge in the town far below.
---
We've been in Pinhão for two days now; between talking to the hotel staff and reading between the lines of the guidebooks, I've come to realize that all is not well economically in this valley. The vineyards are almost exclusively foreign-owned, having been acquired at rock-bottom prices during the phylloxera epidemic. Large, well-established corporations control ever more of the agricultural output and make decisions that suit themselves. The fields are still mostly worked by hand, but the labor is often imported, depressing wages and driving many locals into the tourism industry – which is booming, but mostly to the benefit of a few people with enough residual capital to start businesses. Younger people born in this valley have migrated to the cities, drawn by a larger variety of career options and the promise of a steady income. The global labor shortage has only exacerbated the situation, making work very stressful for those who remain to serve tourists. Pedro and Rodrigo no doubt followed the same path, leaving their former employers to deal with Internet technology that is entirely beyond them.
I feel no personal guilt; since the contact information on booking.com was correct at the time we booked, and because we canceled at the last minute, the old farmer and his wife will probably keep the entire amount we paid for our aborted stay. The four-star hotel is comfortable, although almost everyone staying here is American. In the few years since our guidebooks were last updated, the surge of post-pandemic travel has made this place overdone. It makes a beautiful contrast to our own wine country in Santa Barbara and I'm glad we spent a few nights here, but I won't regret leaving. I wish the locals had an easier lot in life, because they're beautiful people.
For more (and higher-resolution) photos, visit the album.